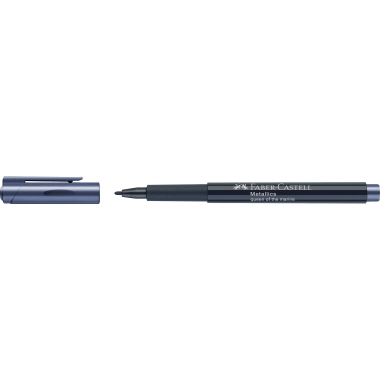 1 / 1

Faber-Castell Layoutmarker Metallics queen of the marine
product.ready_for_shipment.minmax
product.price.salePriceFallback.text
product.price.salePriceSuffix.text
product.price.excludingTaxPlusShipping.link
product.price.sum.label
16,40 €
Verzieren Sie helle, dunkle und bunte Papiere oder auch glatte Oberflächen wie Kunststoff, Folie, Porzellan, Glas und Metall mit einem edlen Metallic-Effekt. Selbst Holz oder Stein kann zum Glänzen gebracht werden. Die Metallics sind nach dem Trocknen auch spritzwasserfest, nach Fixierung bei 160 °C für 30 Minuten im Backofen sogar wasserfest (nicht spülmaschinenfest). Die Tinte schlägt nicht durchs Papier. Außerdem ist kein Pumpen oder Schütteln notwendig, die Farbe fließt gleichmäßig nach. Sie können also sofort mit dem Gestalten beginnen!
Bestellnummer: B00398361
product.manufacturerSKU.label: 160753
GTIN: 4005401607533
Marke
Faber-Castell
Bestellnummer
B00398361
GTIN
4005401607533
Ausführung der Farbe
queen of the marine
Ausführung der Spitze
Faserspitze
Bezeichnung der Schreibflüssigkeit
Tinte auf Wasserbasis
Farbe des Schaftes
schwarz
Material des Schaftes
Kunststoff
nachfüllbar
nicht nachfüllbar
Produktkategorie
Layoutmarker
Produkttypbezeichnung
Metallics
Schreibfarbe
queen of the marine
Spitze austauschbar
Spitze nicht austauschbar
Strichstärke
1,5 mm
wasserfest
nicht wasserfest
Werbliche Produkttypbezeichnung
Layoutmarker Metallics
wischfest
wischfest
pwa-product.manufacturer.label
Faber-Castell
pwa-product.packingunit.label
Stk.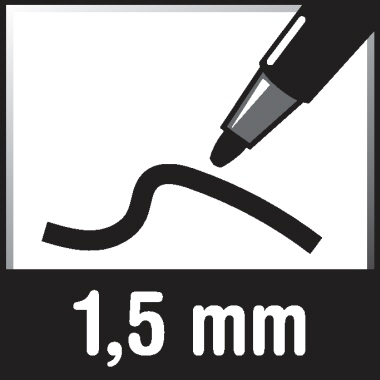 product.other.versions.label